---
The GEODYSSEA Project

---



GEODYSSEA is an acronym for " Geodynamics of South and South-East Asia".



GEODYSSEA is the working title of the project " Plate motions and crustal deformations deduced from space geodetic measurements for the assessment of related natural hazards in South-East Asia". GEODYSSEA is a project being carried out by a consortium of European and Asian participants funded by the Commission of the European Union.

The GEODYSSEA Project was carried out under Contract No. CI1*-CT93-0337 between the European Commission and the GeoForschungsZentrum Potsdam, in Germany. Thanks and appreciation are extended to the European Commission, the ASEAN and all the agencies and individuals who have contributed to the success of this project. Special recognition is given to all the people who contributed to the reconnaissance and monumentation of the network, coordinated by the Conservatoire National des Arts et Metiers (CNAM), to GFZ and BKG, for their perfect organization and execution of the GPS field campaigns and to the Australian Surveys and Land Information Group (AUSLIG), Canberra, Australia, for providing valuable additional data. Part of the computing resources were provided by the Center for High Performance applied Computing (HPaC) of Delft University of Technology.

All informations present on this page can be downloaded and used freely. Only we would kindly request that correct references and citations to the GEODYSSEA publications be included in any publications when doing so.



---

Latest "GEODYSSEA" solution from ENS processing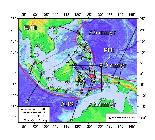 | | | | | |
| --- | --- | --- | --- | --- |
| | | | | |
Solutions depicted here include data from our campaigns in SE-Asia since 1994 and up to 2004

---

The Project




---

Concluding Symposium Penang, Malaysia 14-18 April 1997




---

Miscellaneous





---

Return to main page
---